CHAIRMAN AND CEO LETTER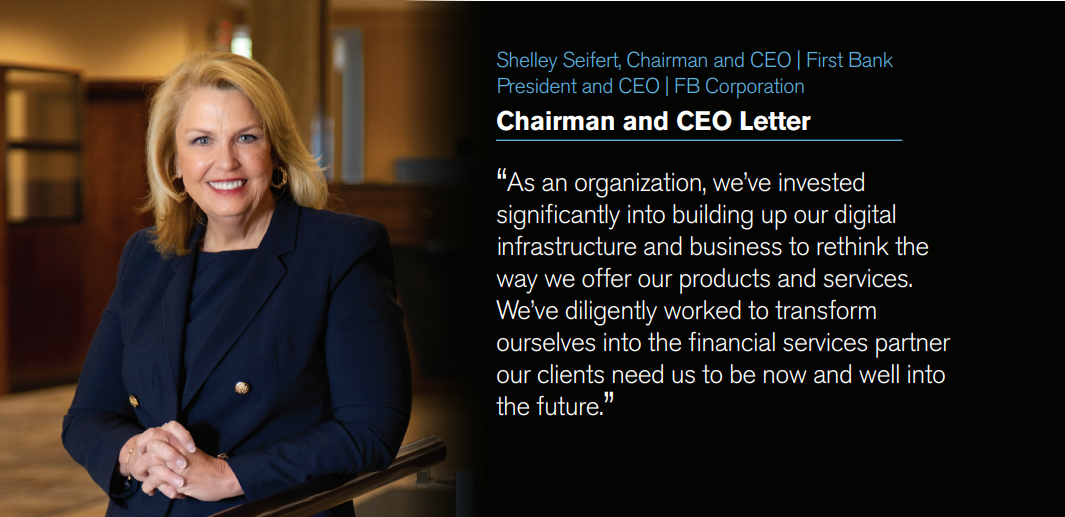 Our Vision: To help family-owned businesses, their families, and employees thrive through the generations.
As I reflect upon 2021, I'm certain I echo everyone's sentiments when I say that I look forward to a day when the terms "pandemic" and "unprecedented" become a part of our history. Albeit challenging, I'm proud of what our clients, communities, and organization have collectively achieved. From supporting one another, showing our support to local businesses, and pitching in to lend a hand to those in need, we're proud to be part of the communities in which we serve. As an organization, we've invested significantly into building up our digital infrastructure and business to rethink the way we offer our products and services. We've diligently worked to transform ourselves into the financial services partner our clients and our communities need us to be now and well into the future.
More importantly, however, I'm very proud of how you, our clients, have continued to show such resilience and resolve throughout the ongoing pandemic crisis. Like all organizations, we too have been confronted with navigating the many challenges presented throughout this complex landscape. From labor and supply chain challenges to establishing appropriate protocols to ensure our staff and clients are healthy and safe, 2021 was a year where we balanced our strong, personal relationships with an immense expansion of our digital, contactless offerings and services. Without fail, our amazing First Bank clients quickly pivoted to adapt to these necessary changes right alongside us.
Commitment to Accessible Solutions
If the last two years have taught us anything, it's that clients need the ability to safely conduct their banking whenever and wherever possible. In an effort to increase our contactless solutions, we've continued to expand our online account opening capabilities and refreshed our mobile app. As a result, First Bank mobile banking users have completed approximately four million digital transactions. We also rolled out instant-issue debit cards so that clients could have immediate access to replacement debit cards.
To improve the client experience for our business clients, we transitioned to WorldPay, the global leader in payment processing systems. This strategic partnership provides our business clients an enhanced ability to accept payments securely while simplifying payment processing.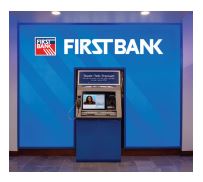 In addition, we implemented nearly 50 Interactive Teller Machines (ITMs) throughout our branch network and expanded our Virtual Banking team. This state-of-the-art technology allows our clients the ability to transact with expanded hours in a virtual setting while still speaking with a live, on-screen First Bank representative. I'd like to encourage our clients to add our growing ITM network to their list of digital options when banking with us.
Looking ahead, we've solidified plans to integrate with the impressive Allpoint network, allowing our clients surcharge-free transactions at ATMs within its massive network (over 50,000 locations), including major retailers like Target® and Ralphs Supermarkets®. We're excited to announce that we've also made a significant investment in leading edge digital technology which will provide our clients with enhanced capabilities and a more integrated experience.
Commitment to Cybersecurity
We're proud to be a leader in secure digital technology. Regardless of the economic environment we're in, cybersecurity never takes a rest. Sadly, cyberattacks are not only the fastest growing crimes in the U.S., but are also becoming increasingly sophisticated and costly.
In fact, according to a report published by IBM Security, cybercrime increased to $4.24 million in 2021*. This is widely due to the sharp increase in the global remote workforce coupled with an intense increase in the technological advancements of the cybercriminal network.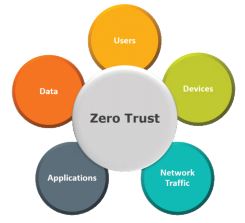 At First Bank, clients can rest easy knowing we continue to stay a step ahead of the bad actors by further securing our cyber-environment and adhering to the strictest controls set forth by the National Institute of Standards and Technology (NIST). In addition to the stringent NIST guidelines, First Bank has also adopted the "Zero Trust" security model to offer the most secure banking system in the industry.
In fact, First Bank's networking team was awarded worldwide recognition from Juniper Networks by winning the Elevate Award for Lean IT for their use of automation and security enhancements to the bank's network. HP Aruba, a Hewlett Packard Enterprise company, a global leader in secure networking solutions, has also recognized First Bank for the usage of software defined networking. We will continue to stay abreast of all emerging cybersecurity advancements and trending threats.
Commitment to Our Clients
First Bank's ultimate goal has been and always will be to serve our clients first and foremost. We realized very early on in the pandemic that our clients needed alternative methods of banking with us. We challenged ourselves with a forward-thinking approach to push forth with our plans of offering enhanced digital solutions, concierge-style services, and complete remodels for select locations. Offering our clients a contactless solution with a live, knowledgeable First Bank representative for most transactions – and with expanded hours – just made sense for today's environment. We're proud to say that through it all we have stayed open and provided access to the services and solutions our clients need. We're already executing extensive plans for additional branch transformations with enhanced technology in 2022 and beyond.
We recently introduced a new, best-in-class mortgage loan origination system and upgraded our online Mortgage banking portal. This digital servicing platform greatly enhances the client experience by offering information on escrow, prepayment speeds, amortization schedules, automatic payment options, comparisons of home values, and much more.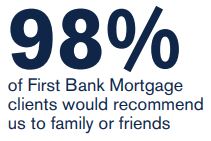 In addition, First Bank Wealth Management recently formed a Family Wealth Advisory team to focus on helping families acquire, preserve, and transfer their legacy to the next generation. As an organization, we continue to develop and expand our services to holistically cater to families and family-owned businesses throughout our footprint.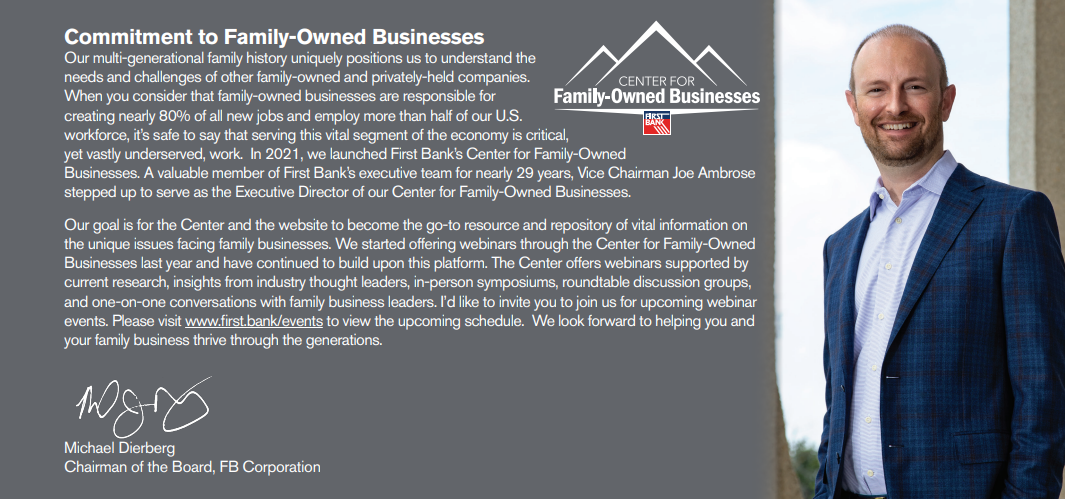 Commitment to Our Communities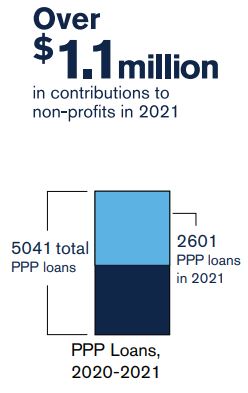 Throughout all of the uncertainty, one thing has remained constant: our steadfast commitment to our clients and to our communities. Our sincere hope is that through our collective efforts, we'll aid in tackling some of society's biggest socio-economic challenges, including securing dignified economic opportunities and improving educational equality.
Distance learning proved to be a greater challenge for the youth in underserved neighborhoods. That's why First Bank continued forth its 2020 commitment to contributing $1 million over the course of three years to help support technology for students and professional educator development through First Bank's Education Technology Initiative.
Since the onset of the Paycheck Protection Program (PPP), First Bank served local business clients and even served non-clients with more than 5,000 PPP loans totaling over $650 million to help provide critical lending at a time when they needed it most. In addition, First Bank committed over $1.1 million to reputable non-profit organizations and valuable programs to help our communities thrive. Many of these organizations were forced to rethink how they serve those in need due to the challenges brought forth by the pandemic. As a trusted, reliable corporate neighbor and friend, we envision a future where our time, attention, and charitable funding collectively helps shape a more positive future for generations to come.
In Closing,
I'd like to take this opportunity to thank our clients and colleagues for their courage and determination as we emerge from the complexities of this pandemic stronger and more unified as one nation. As we reflect on the last couple of years, we're proud to have walked beside our clients, while weathering the challenges of the day together. It's been a great privilege to serve and work alongside each of you.
Together, let's look forward to what the future holds.