If you've watched the news or scrolled through your social media feed recently, you've probably heard the buzz regarding "Federal Deposit Insurance Corporation, or FDIC Insurance" and its importance in both good and not-ideal economic conditions. Knowing more about this important entity–as well as its origins–reinforces the role FDIC Insurance plays as well as how member banks still remain the safest place for your hard-earned money.
To find if your bank is a member, click here.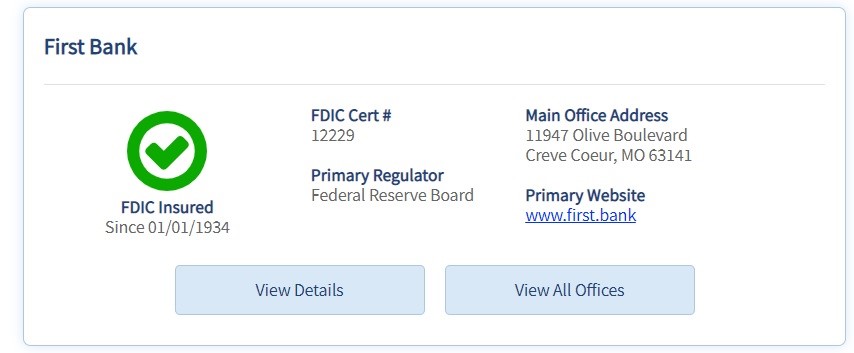 How did FDIC Insurance get started?
Following the deep economic downturn that occurred during the 1920s and 1930s, President Franklin Roosevelt signed the Banking Act of 1933, which then established the FDIC. An independent agency created by Congress, FDIC Insurance was established to protect confidence in the nation's financial system as well as help to maintain its stability and longevity. FDIC Insurance and the protection it offers into qualifying accounts still remains strong and intact to this day.
What is the FDIC Insurance limit?
Headquartered in Washington, D.C., FDIC Insurance's Standard Deposit Insurance Amount (SDIA) protects up to $250,000 per depositor, per insured bank, for each account ownership category. Rest assured, the FDIC Insurance is backed by the full faith and credit of the United States government.
Want to know more about Deposit Insurance Coverage by Ownership Category? Contact a
First Bank banker by calling 800-760-2265 or by visiting a First Bank location.
What bank accounts are FDIC-Insured?
When reviewing your overall financial portfolio, it's important to know which of your deposit accounts are FDIC-Insured. FDIC-Insured accounts include Checking Accounts, NOW Accounts, Savings Accounts, Money Market Deposit Accounts, and Certificates of Deposit (CDs) up to $250,000 per each depositor and for each account ownership category.
How do I know if my accounts are exceeding FDIC-Insurance limits?
For any questions related to your FDIC Insurance coverage or options available to increase FDIC Insurance coverage, please reach out to the knowledgeable First Bank team by calling 800-760-2265 by visiting a First Bank location. In addition, you may use the Electronic Deposit Insurance Estimator (EDIE) to calculate FDIC Insurance coverage. EDIE provides a printable report to determine whether your deposits are within or exceed coverage limits*.

Are there accounts that are NOT covered by FDIC-Insurance?
FDIC Insurance does not cover funds that are invested into non-deposit accounts (even if these are purchased through an FDIC-insured bank).
Such non-insured products/services include:
• Stocks, Bonds, Municipal Bonds, and Other Securities
• Mutual Funds (money market mutual funds and stock, bond, or other security mutual funds)
• Annuities
• Insurance Products (automobile and life insurance)
• U.S. Treasury Bills, Bonds, or Notes
• Safe Deposit Box Contents
How do you know if your bank is FDIC-Insured?
It's nice to know some things remain consistent, and that's the steadfast security of FDIC Insurance. Since 1933, or when FDIC-Insurance originated, no depositor has ever lost one penny of FDIC-insured funds.
Is your financial institution insured and secured? Call 1-877-ASK-FDIC to find out.
First Bank is an FDIC-Insured bank; meaning, money that you deposit into qualifying accounts (per person and per ownership category)—and up to the limit—is safe, secure, and insured. If you should have any questions, wish to discuss depositing or moving your funds to First Bank, or want to inquire about diversifying into qualifying FDIC-Insured accounts, reach out to the team at First Bank. We're happy to help!
*If the accounts entered into EDIE are not deposits in an FDIC-insured bank, the coverage information provided in the EDIE report does not apply.
Source: www.fdic.gov