FOR IMMEDIATE RELEASE
For more information, contact:
Ryan Jackson
314.799.3229
For every transaction made via a First Bank Interactive Teller Machine, the bank will donate funds to local food pantries
First Bank is announcing a new initiative in partnership with 11 food pantries throughout St. Louis to help combat the increase in food insecurity within the community.
The winter months bring colder temperatures and a critical need for a higher demand of donated food in underserved communities. First Bank is giving back and allowing clients to contribute through the simple use of their new in-store Interactive Teller Machine (ITMs), located inside of Dierberg's Markets. Clients can use the First Bank ITMs to cash checks, transfer funds and conduct other banking needs that are traditionally done at a teller window.
"In what has already been a difficult past year for many families in the St. Louis area, First Bank is proud to partner with food pantries that have continued to make a difference during the pandemic," said Shelley Seifert, Chairman & CEO, First Bank. "First Bank is committed to family-owned businesses, and our new ITMs are the perfect conduit to reach the community at large in more ways than just fulfilling their banking needs."
Below are the participating First Bank ITM locations and the corresponding food pantries receiving funds: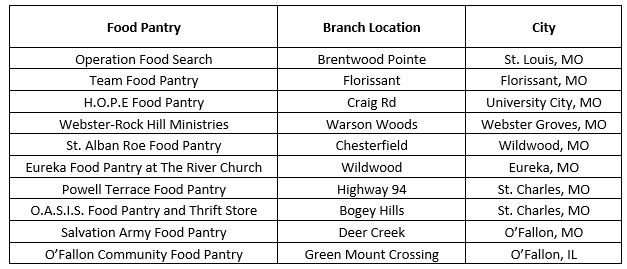 To find the nearest First Bank branch and participate, please visit: first.bank/About/Locations.
About First Bank
First Bank, a subsidiary of FB Corporation, is one of the largest privately owned banks in the country. As a family-owned business with four generations of independent, single-family ownership, First Bank offers the stability and experience with long-term planning that helps businesses and the communities in which they operate grow and thrive. With over $6 billion in assets and 79 locations throughout California, Missouri and Illinois, First Bank has developed a relationship-driven approach to offer comprehensive solutions for clients in commercial and consumer banking, wealth management, mortgage banking and more. For information, visit www.first.bank.